All that Jazz…..!!!!
I saw pirates of the Caribbean: on stranger tides a while ago, which was clear a let-down for the series. Can't say that it was entirely the director's fault, but some of it was, I suppose, so I looked for director Rob Marshall's other works as to give him another chance(last chance, I thought that time). Then I stumbled upon an academy award winner, and this movie took my heart away and I end up watching every song 4 times back to back.
Chicago is a musical drama bestowing innocent, naïve and beautiful Roxie Hart, played by Renee Zellweger, with dreams in her eyes. Roxie made one dreadful mistake which tossed her in jail. There she encountered Velma Kelly (Catherine- Zeta Jones), a jazz artist who was there for the reason that she killed her husband and sister. Roxie was given a favor by Miss Morton 'Mama', Matron of the murderess row, as she gave Roxie a chance with the finest lawyer when it comes to women convicts. This is how she met Billy Flynn (Richard Gere). Now, Billy's philosophy was that the whole jurisdiction system is no less than a show business (this irony is portrayed beautifully in the film) and all he need to do is to depict the accused as a victim of the situation. This best suited Roxie as she always wanted to be in limelight and suddenly media gushed towards her, people want to buy her clothes, her look-alike dolls are all over the town and whatnot. Soon Velma became the afflicted by Roxie's fame. The movie musically shifts through diverse areas of media, jurisdiction, jealousy, egotism, desperation making you giggle and nod in appreciation.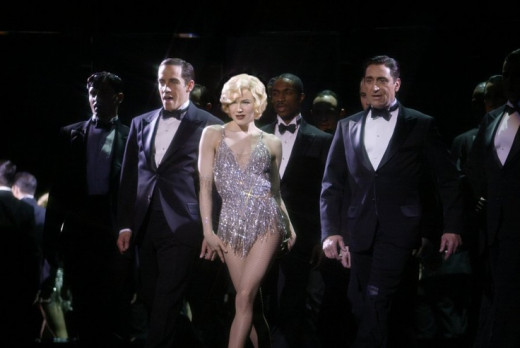 Though each and every one of the characters was jam-packed with distrust, façade or ravenousness of some kind, at the conclusion you feel like you are in love with them. Sarcasm is the main agenda of the film as every one of those songs was sniggering straight at the face of the system in America in 1920. The cinematography is over the top. Performances were an image of perfection. Special mention to Zeta-Zones is indispensable as she absolutely earned the Oscar she received for the part of Velma Kelly. She is sensual and conceited at one time and desperate and clumsy on others and still manages to perform astonishingly in both circumstances. The entire cast seems proficient and watching them dance in unison is just what you need.
Razzled and Dazzled…
Now let us talk about the soul of the movie, Jazz. The film was packed with one after the other spectacular and utterly delightful melodies with sizzling acts by the thespians. It looks like as if the lyricist Fred Ebb knows exactly what is vital, like the perfect ingredients in a delicious dish.
The movie greets you with a racy performance of Catherine singing 'All that Jazz'.Then there is an get to know the song for Queen Latifah, 'When you're good to mama'. Then there is 'cellophane' enacted by Reilly. I liked every one of them but two of them were my beloved – 'We Both Reached for the Gun' and 'Cell block tango',these two almost forced me to jump at the end with enthusiasm. Specifically, Cell block tango, 'pop, six, squish, a-a, cicero, Lipchitz' and then the ladies burned the floor down one by one.
Some facts at the end….
Chicago is actually based on a musical of the same name. The musical having music by John Kander and lyrics by Fred Ebb was a major hit at that time. This play was originally based on a 1926 play written by Maurice Dallas Watkins, a reporter who reported on the actual crime scene which inspired her to write it.
At the end, in my views, Chicago is one of the finest musical drama I have seen. I wish this movie provoke other filmmakers to make such exceptional cinema.