"He has seen the path. Hold on. I've lost signal from my cameras.
I can't see anything, I don't know where he is, and he is coming your way. RUN!!!!"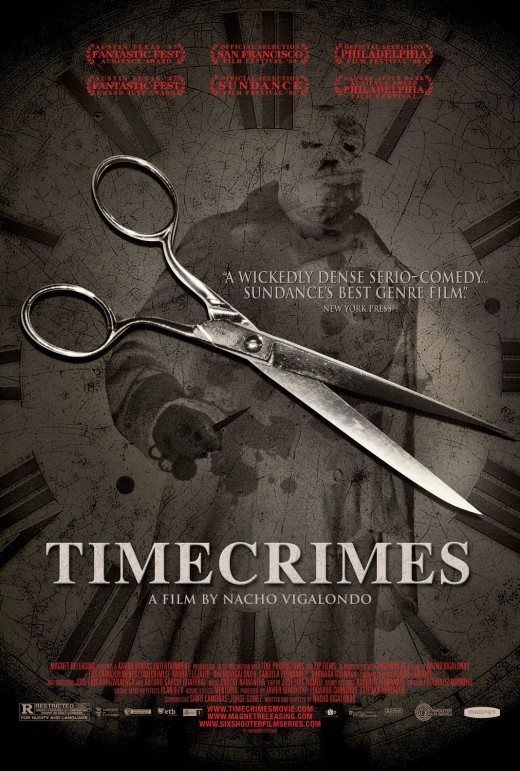 The Basics…..
The life of Hector, who is moving into a new house with his loving wife is unexpectedly going to change when he is attacked by a disguised assailant. When he saw something odd in the woods nearby he went out to check it in the night. This is when the masked guy got to him. So he ran and took refuge in what looks like a laboratory with a man who was assisting him through a walky-talky. The man told Hector to hide in a chamber and by lowering its hatch blocked Hector in it. When he came out, he apprehends something is off beam. The man refused to identify him, he was in the chamber for like a second but when he came out it was daytime, but most eerie was when he watched himself walking into his house, doing everything that he did this evening. What has happened……???
My kind of film….
This Spanish thriller drama was intriguing. Observing Hector 3 dealing with Hector 2, who himself is dealing with Hector 1 was amazing (you will know who Hector 1, 2 and 3 are when you watch it). I always adored movies with time traveling or any other such sort of concept, especially when the ends meet and every piece appears to fall into its place. But in this movie, they moved Hector only a few hours back in time. So it is just one evening from three different points of view and guess what, all of them are of Hector's.
Time traveling guidelines….
Well, the thing is, Hector only wanted to set things right so that he can live happily with his wife again, but how can it be so simple if it is in a movie. All sci-fi lovers know that when you are wandering in time, no blunder is acceptable. The concept is itself confusing, what happens in the present is a combination of what happened in the past, and as you are traveling in the future, so your future also. How can you present depend on your future when we know that the future depends on the past ? Creepy, no ? The whole thing has to happen the same way it happened last time or else, do you know what can happen? Well, watch this movie and find out yourself.
oh..!! That's why….!!
Although I must acknowledge Hector seems to be very intelligent as he keeps on grasping from the circumstances as he advances. He also seems to understand the notion of time traveling quite easily. But that is what makes this movie amiable for masses. See, what happen with this kind of movies that they get intricate and people get diverted easily from the film if they feel a loss of connection anytime during viewing it. Not Timecrimes, no it will not let go of you till the climax, and then the climax is very peculiar and yes, all the pieces fall into their places. All the time you are discerning what he is going to do now and then you will have a feeling of "oh..!! That's why…." You never get bored, so you never give up watching the movie.
Acting department
Hector (Karra Elejalde) has done a tremendous job. I am going to refer him as Hector because it is that kind of movie where actors do such a good job that they are remembered by their screen name for the film. Hector had that look on his face, the look anyone has when his world is going topsy-turvy and his mind is in utter confusion (for some time, after that he starts understanding what is happening). The supporting cast does not have much to do but they did their part.
What we are left with….
Los cronocrimenes provide a good insight into the human soul. Although Hector is just another guy, but what will he do when he has to choose between two completely different decisions, will he follow the path of righteousness, or go along with what he really wants?
After every scene we are left which such questions, then we see what we missed earlier (I said too much!). Every path which Hector follow is actually designed by the Hector who is one step ahead.
The Spanish cinema has given us some very rich work. It is essential to mention Pan's Labyrinth, The secret in their eyes, [Rec], The orphanage (has remained one of my favourite horrors in foreign language for a very long time) and The skin I live in, some of my favourites and I can easily count this movie as one of them. Timecrimes is not as creepy as Sleep Tight (Mientras duermes) , not as suspenseful as The secret in their eyes, not as horror as The orphanage but it has all the elements in a fairly appropriate quantity which makes it a proper mixture for a nail-biting thriller.