As Friendship day is just around the corner, here's a list of some movies which you may have skipped earlier but are perfect to be watched with your friends on this occasion. I've kept this list short with only 5 movies so that you can get right to it, instead of getting confused seeing a lot of options.
1) The Breakfast Club (1985)
Let's start with the most popular one. The Breakfast Club is about five high school students who meet each other during detention one day and realize that they have so many things in common. The movie follows the characters for that one day and portrays effectively how friendship instigates between people who you thought would never come together as one. The movie has a growing pace and a satisfying ending. It's a perfect watch especially if your movie night is going to get bigger, with your friends, and their friends and so on.
2) Don't Think Twice (2016)
Don't think twice is about an improv troupe who are amazing at what they do. But life is not fair, as most of us want to think. The movie showcases how everyone and everything changes after one of the friends gets a huge break, a chance which they all were expecting but didn't get. Sure, we all love our friend. But what if, a little bit of jealousy is eating you up from inside when you see them and think it should be me in his/her place? Don't worry, the movie is a joyride ever after focusing on a slightly serious topic. A must watch if you want a movie about friends which dwells upon what is the actual meaning of friendship.
3) Toy Story (1995)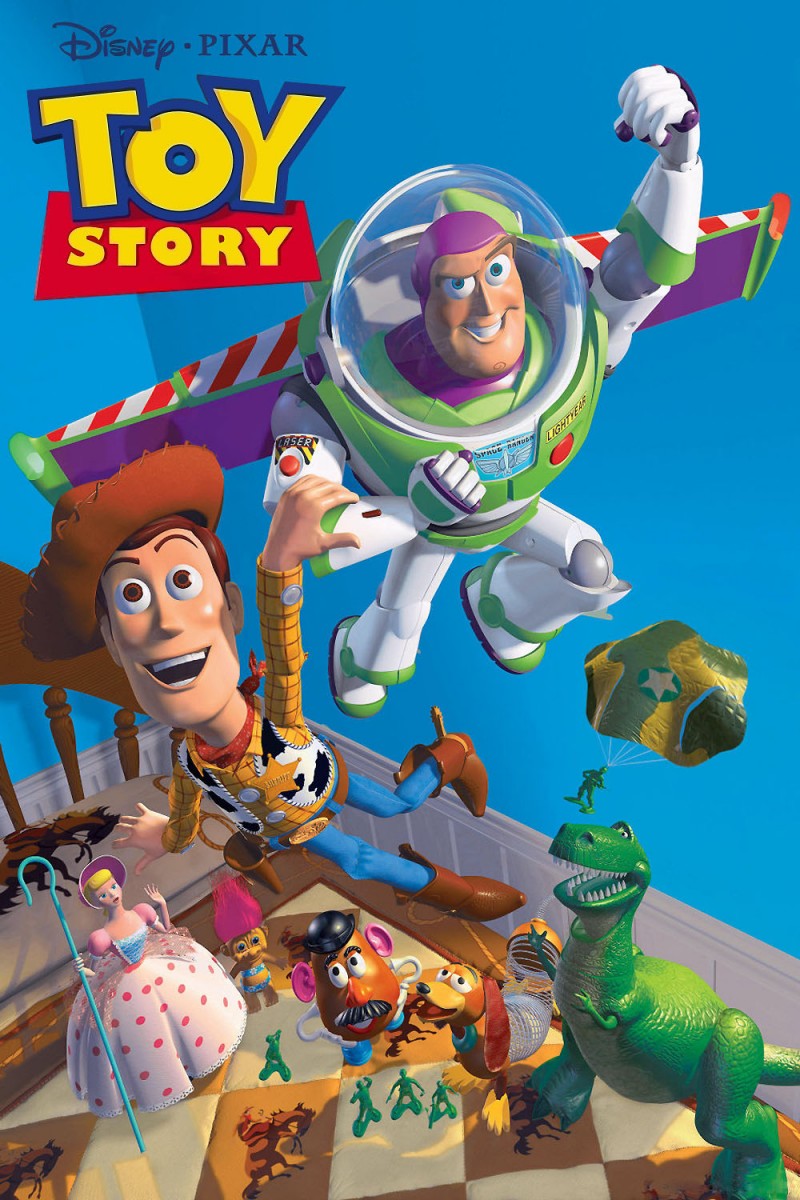 There is no way you haven't watch the trilogy yet. If not, then most probably you were living under a rock. This movie defines a whole new genre which deals with so many emotions which I never thought an animated movie would be capable of doing. The movie is about Andy and his toys and what happens when Andy is away. The movie focuses on two protagonists, Andy's favorite toy, Woody – a wooden cowboy puppet and Buzz Lightyear – a new high-tech toy. We see the journey of Woody and Buzz as they fight each other, get into trouble and find friendship on this journey. A comical adventure, this feature will definitely leave a mark. If any of your friends have not seen it yet, it is your duty to make them sit and convert movie night into A movie trilogy Marathon.
4) Bridesmaids (2011)
Jealousy will not take you far. But what if someone else is trying to be a BFF to YOUR BFF! Well, they have crossed a line. Bridesmaids displays the competition between a bridesmaid and a maid of honor about who can be the best friend of the bride. In the able hands of Kristen Wiig, Maya Rudolph and Rose Byrnes, the movie is definitely an amzing watch. Also, Melissa McCarthy was nominated for best-supporting actress Oscar for this one. The film is hilarious roller coaster which makes sure that the audience should laugh at every clumsy mistake the characters make. Its a definite 'yes' for all the ladies out there if they are planning to watch this one with their BFFs.
5) Frances Ha (2012)
The description of Frances Ha on IMDb is as cool as they come. It says, 'A story that follows as a New York woman (who doesn't really have an apartment) apprentices for a dance company (though she's not really a dancer) and throws herself headlong into her dreams, even as their possibility dwindles.' Although, it does not mention she lives in her best friend's (but they are not speaking to each other anymore) apartment. This movie raises a question, what will you do when your friend grows up without you? Frances is the same, but her best friend Sophie has drastically changed. Now Sophie takes calculated decisions, is totally organized and most heartbreakingly, goes out with other friends of her's. We all know growing up sucks, but growing up alone sucks more. The movie is a delight to watch, especially on friendship day.
Some honorable mentions: Stand by me, Thelma & Louis, Mistress America, Clueless, Perks of being a wallflower, The Help.